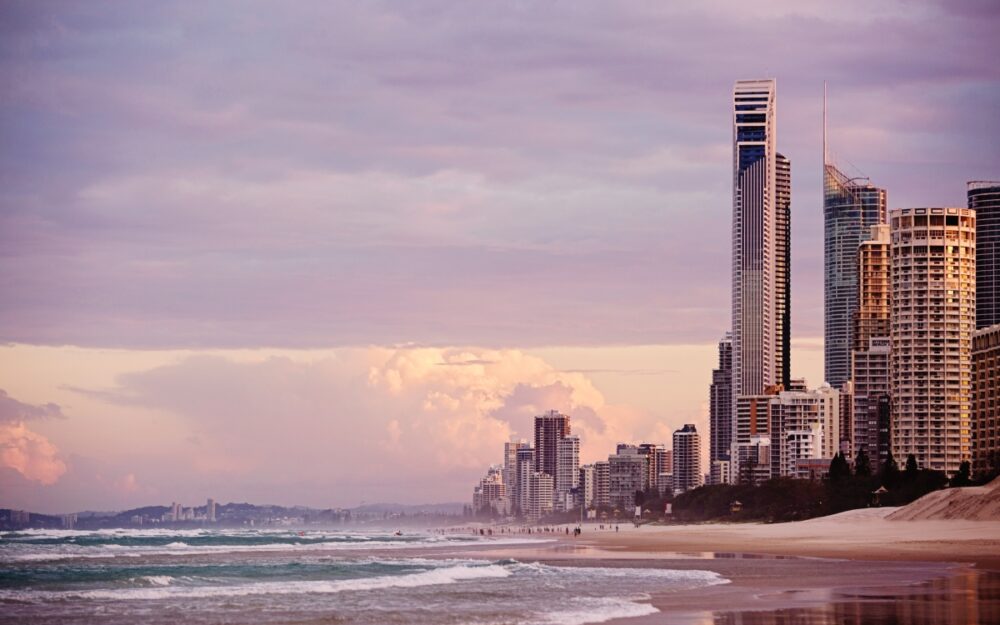 If you are an Instagrammer who have a keen eye for beauty, then you must already know that the Gold Coast has a lot to offer in that department. You can find it on its coves, beaches and even in its skyscrapers or its the suburbs with its '50s-style homes.
The problem is where to start taking photos though with all the choices available. To help you out, we have made a shortlist of where you can capture your golden shots. See them below:
1. North Burleigh Hill
If the rainbow-coloured stairs are not enough to get your attention, then the sights from up the viewing platforms definitely will. One offers you a panoramic view of the skyline going down to Surfers' Paradise, while the other showcases Burleigh Heads going down to Coolangatta.
You can rest here after your walk along the coastline walking track or have an afternoon picnic with friends or family. As soon as the sun sets, you can start taking gorgeous shots of the pastel colours of the skyline and the coastline. At this vantage point, you won't even need a tripod.
2. Miami Marketta
An open-plan marketplace with fairy lights canopying its alley, Miami Marketta is a favourite among foodies and groups of friends who just want to sit back and relax while grabbing a bite. It features a great number of food trucks as well as hosting gigs that will make you want to come back again and again.
Here, you can take beautiful photos of the alley and its fairy lights or of the mouth-watering food from any of the food trucks. This destination on the Gold Coast is a food or travel blogger's dream.
3. Burleigh Heads
There is no better place to imbibe in the Gold Coast lifestyle than in Burleigh Heads. Aside from its beautiful beaches and its number of vantage points into its picturesque splendour, it has dining options that are to die for.
If you are an early riser, you can start off your day with a Commune breakfast and end it by taking shots of the inimitable sunsets over the coastline. If you are up for a taking sunrise images, you need to check the best location before going to a particular spot. While you can see splendid sunrises from Burleigh Point during Winter, you might need to go further north of Burleigh Beach to see one.
4. Tamborine Rainforest Skywalk
If you don't want to take photos out under the sun, then you can take shelter under the towering canopies of Gold Coast's rainforests. Head on over to the Tamborine Rainforest Skywalk, which is located along the Cedar Creek Falls rocks pools. This 30-acre privately-owned rainforest has a 1.5km trail that's suspended 300 metres above the rock falls, which provides a lot of chances to take awesome photos.
After taking in the trail, you should visit Witches Falls Winery to taste some wine paired with Brie. Here, you will not only have the chance to take some photos of the wine and cheese pairings, but also of its surrounding vineyards and avocado trees.
5. Bam Bam Bakehouse
Whether you are into food photography or not, this bakery on Mermaid Beach is an absolute pleasure to visit. You will fall heads over heels in love with everything on its menu.
Although the place comes with a cool urban ambiance, you will find that it's really the food here that will take centre spot on your Instagram posts. You will make your followers drool over their croissant eggs Benedict, mermaid lattes, salted caramel eclairs, choux bomb and twice-baked almond croissant.
If you already have favourite treats here, you can actually order ahead so they will immediately be ready when you arrive.
6. Lost World Day Spa
Have you ever had some spa time that lets you enjoy the beauty of nature at the same time? If you haven't, then you should head on to the Lost World Day Spa with its 25-metre infinity pool and its sweeping views of the Great Dividing Range and the McPherson Ranges.
This hinterland paradise is located at the O'Reilly's Rainforest Retreat in Lamington National Park. It offers you the perfect way to wind down after hiking and exploring the park's hiking trails.
7. Purling Brook Falls
Located in the midst of Springbrook National Park's rainforest, Purling Brook Falls flows down a cliff before it plunges into a rock pool below. While hiking the 4-kilometre walking circuit of the surrounding rainforests, you can capture splendid images of the lush greenery and the falls itself. After, you can cool off by taking swim in the rock pool.
To get really breath-taking photos of the falls, try going up top after a rainfall. You will see that the falls looks even more spectacular when it is flowing fully.
8. Surfers' Paradise
Although known mostly for family holidays and for photos taken under its signage, Surfers' Paradise has now become a hot spot for rooftop bars and superb dining choices.
If your main intention in coming here is to take photos for your Instagram, then be here during sunrise up until the early morning. Go to the main beach and from there you can capture the waves and its surfers. If you turn around, you will also be able to take images of the sun playing light and shade on the huge buildings.
9. Nineteen at The Star
Situated on the rooftop of The Darling, Nineteen at The Star is one of the chicest places on the Gold Coast. Headed by Billy Cross and Simon Gloftis of Hellenika, this restaurant and lounge bar does not only offer signature dishes like its rock lobster Bolognese and its grilled Patagonian toothfish. It also showcases an expansive view into the Broadbeach horizon.
You can start off your time here with lunch, followed by cocktails by its infinity pool. To get those awesome Instagram selfies, you might like to dress up when you come over.
Aside from the nine we've mentioned here, there are still more Instagram-worthy spots on the Gold Coast you might like to discover and explore. For more culinary photography, check out the Burleigh Pavilion at Rick Shores, Fufu at Mermaid Beach or The Collective at Palm Beach. If you wish for more of nature at its finest, then you can also head on to Snapper Rocks in Coolangatta or the Natural Bridge Waterfall in Springbrook.